JamV Guitars  – Hans van Velzen   
Studio for:
Handbuilt guitars –  Restaurations – Repairs – Handmade tools for the  guitarbuilder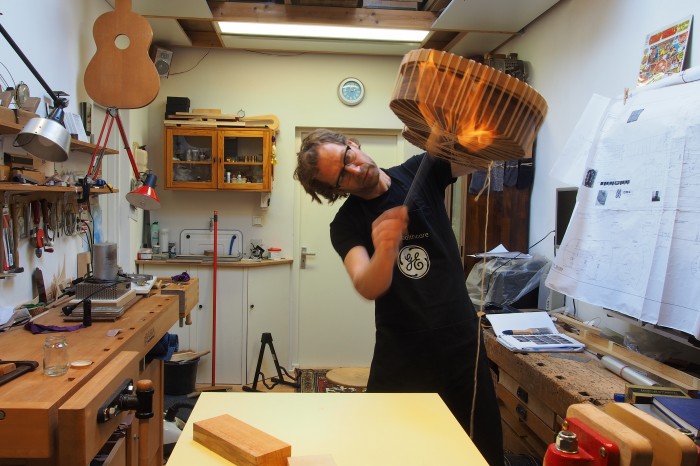 Besides free advice, JamV Guitars can provide you with :
Repairs and adjustments to your electric or acoustic guitar or bass.
Refretting your fingerboard or recrowning your frets.
Building you a custom guitar, acoustic or electric. (on hold)
Historically sound repairs on every string instrument.
Handwound pickups and repair or rewounds of defective pickups.
Special handmade tools for the luthier.
French polishing.
My mission: To enable musicians to explore and express their creativity by providing them with first class (custom built) Instruments.
In 2011 I won the first prize at the Dutch Guitar Builders meeting.
In 2014 I was awarded the golden fingerplane  for promising Talent of the CMB in Belgium.
in 2018 I won the third Prize in the II Antonio Marin International  Guitar building competition in Granada.
The coming decade my focus will be on the Classical guitar in terms of guitar building.
I also participate in the Leonardo Guitar Project since 2014. In May 2015  I was able to work in Italy for a month with Lorenzo Frignani on this project.
Another project was the building of 2 Manuel Ramirez 1910 Models, one with and one without Tornavoz. The Manuel Ramirez without Tornavoz was finished in 2017.
The Model with Tornavoz was finished june 2018.
A project for 2019 was building two Santos Hernandez models, one in spruce, one in ceder. For 2020 I was working on my own 2 models; one is inspired on Enrique Garcia 1917, one is Inspired on Santos Hernandez / Manuel de la Chica.
For 2022 I am working on a Vicente Arias 1889 model beside a guitar for GSI.
For news and other projects take a look at my  facebook page.