Biography:
My name is Hans van Velzen, I was born and live in Tilburg, in the Netherlands. I'm an Instrumentmaker by profession, and was educated at the Leidse Instrumentmakersschool.
I made my first electric guitar in 1986. Since 2004 I have been studying to become a professional luthier at the CMB in Puurs, Belgium.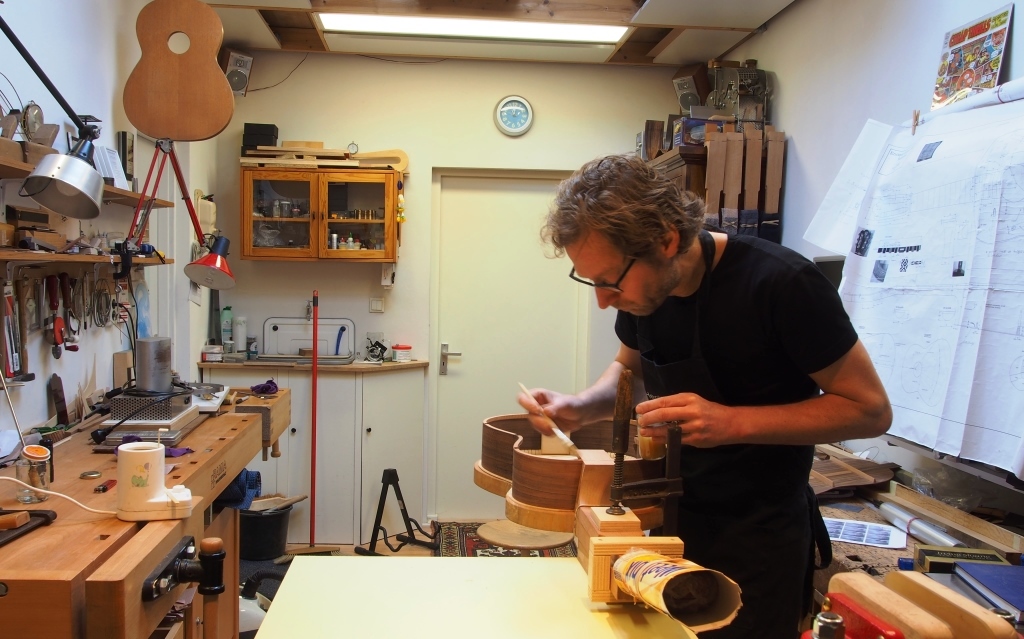 At the CMB the emphasis is placed on developing your skills primarily using handtools, and this is something I feel very happy about. Because of my background, I am used of working with a high degree of precision, but it is quite a step from being a mechanical engineer to becoming a maker of musical instruments. I have  learned a great deal about guitar building from a few superb teachers of whom I will mention two:   Jacky Walraet and Walter Verreydt.
Over the coming years, I wish to continue to develop my guitar building skills. I have been working as a professional guitar builder since 2007, and in  2014, I became an officially qualified guitar builder. I have completed the steel string guitar Module, the restauration and repairs module,  and the classical guitar module at the CMB.
I Graduated in 2015.
In 2011 I won the first prize at the Dutch Guitar Builders meeting.
In 2014 I was awarded the golden fingerplane of the CMB in Belgium.
In 2018 I won the 3th prize in the Antonio Marin international Guitar building competition in Granada.
These are all strong motivations to continue in the beautiful profession of Luthier.
The coming years my focus will be on the Classical guitar in terms of guitar building. I also participate in the Leonardo Guitar Project. In May 2015  I was able to work in Italy for a month with Lorenzo Frignani on this project.
In terms of sound I prefer Instruments build in the "golden era" of the Spanish guitar, roughly from 1870-1930. Major examples for me are guitars built by Antonio de Torres, Manuel Ramirez, Enrique Garcia and Santos Hernandez. I make historically correct copies of Instruments from these builders, approaching the original instruments in terms of both appearance and sound as perfect as possible. The knowledge I gain by building according the old masters, has eventually resulted in 2 models of my own signature.
One is inspired on the 1917 Enrique Garcia, the other one is inspired on the 1930 Santos Hernandez/1940 Manuel de la Chica.